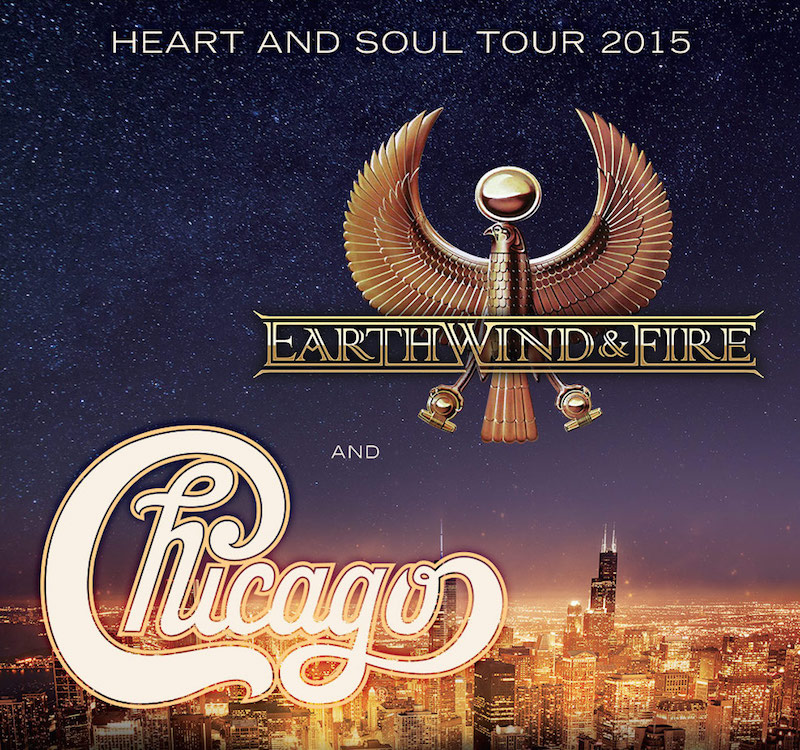 Two of the most successful and critically-acclaimed bands Earth, Wind & Fire and Chicago announced today their North American co-headlining summer tour Chicago and Earth, Wind & Fire – Heart And Soul Tour 2015 kicking off July 15 in Concord, CA. The 25+ date tour, promoted by Live Nation, will take the Grammy Award-winning and multi-platinum selling groups through major U.S. cities including Los Angeles, New York City, Las Vegas, Atlanta and Boston. The tour will conclude September 6 in Atlantic City, NJ.
"One of the most exciting things about the show is when both bands perform at the end of the concert," Lee Loughnane of Chicago said. "Having these 21 very talented musicians playing our greatest hits together puts the excitement level at a fever pitch! From the Heart of Chicago and the Soul of Earth, Wind & Fire, it is an unforgettable experience."
"This is a real treat for fans of both groups to experience again the power-packed collaboration of Earth, Wind & Fire and Chicago," Philip Bailey of Earth, Wind & Fire added. "We are looking forward to it ourselves – it has always been one of our favorite tours."
Tickets for the tour go on sale starting Friday, March 13 at 9 a.m. in select cities on www.livenation.com.
With more than 200 million albums sold and 20 GRAMMY® nominations between them, the tour will provide unparalleled entertainment from two of America's most legendary musical groups. Billboard hails that Chicago is one of "the most successful American rock band[s] of all time, in terms of both albums and singles" and "been able to fill arenas with satisfied fans" with music that has endured throughout time while Rolling Stone has described Earth, Wind & Fire as "a funk-fusion powerhouse that changed the sound and history of popular music."