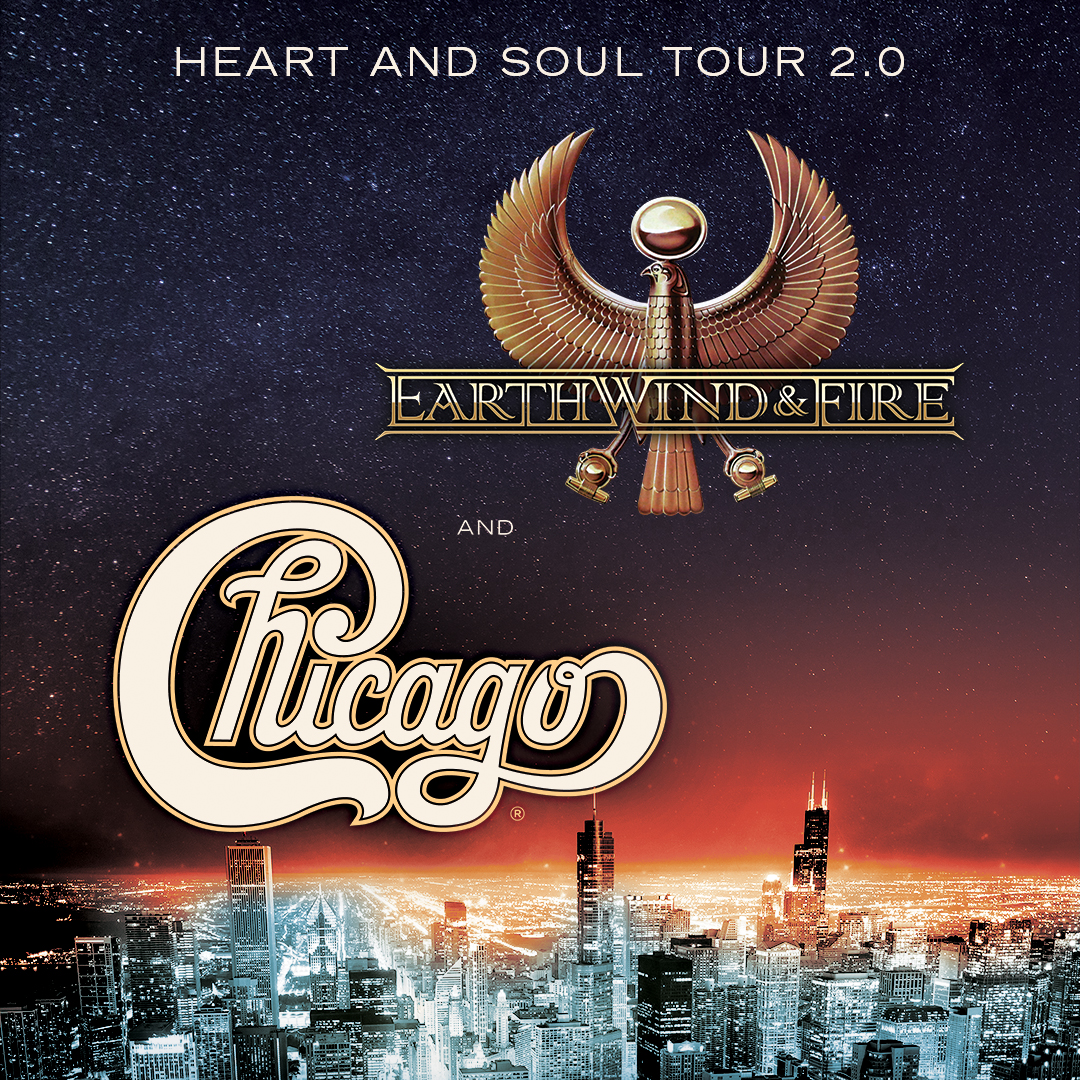 LEGENDARY BANDS EARTH, WIND & FIRE AND CHICAGO ANNOUNCE 2016 TOUR:
CHICAGO AND EARTH, WIND & FIRE – HEART AND SOUL TOUR 2.0
– 15 Co-Headline U.S. Spring Tour Dates Due To High Demand; Tickets On Sale Starting November 20 at LiveNation.com –
LOS ANGELES (November 12, 2015) – Two of the most successful and critically-acclaimed bands Earth, Wind & Fire and Chicago announced the Heart and Soul Tour 2.0 – 15 additional U.S. dates following their hit summer Heart And Soul Tour – due to popular demand. Promoted by Live Nation, fans across the country will be able to see the Grammy Award-winning and multi-platinum selling groups live beginning March 23, 2016 in Jacksonville, FL. The tour will continue through cities such as Milwaukee, Columbus and Tampa before concluding on April 18 at New York City's famed Madison Square Garden.
American Express and Citi® cardmembers will have access to pre-sale tickets in select cities beginning Monday, Nov. 16 at 12:00 p.m. local time. General tickets for select cities will be available beginning Friday, Nov. 20 at 10 a.m. local time. For complete pre-sale details and ticket information, please visit  www.livenation.com.
"There's a saying that goes, 'if it's not broken there is no need to change it," Indeed," says Philip Bailey of Earth, Wind & Fire. "The powerful magic of Chicago and Earth, Wind & Fire works for both bands and fans alike. Here we go again!"
"I'm excited to be starting another leg of the Heart and Soul tour," said Lee Loughnane of Chicago. "Both bands are playing great and when we play together, the show rises to another level. Come see the concert. You won't be disappointed."
The tour's initial run kicked off on July 15 in Concord, CA and concluded on September 6 in Atlantic City, NJ. Fans in more than 25 cities such as Los Angeles, New York City, Las Vegas, Atlanta and Boston came out to wildly energetic, enthralling and critically-acclaimed shows.
The Atlanta Journal-Constitution hailed the show as "a combination of brilliantly constructed songs that infest your soul and dazzling showmanship that gets the job done" while the St. Louis Post-Dispatch raved about the show's finale, featuring both bands on stage, as a "winning combination and a fitting capper to an evening of music that was at once warmly nostalgic and stirringly vital." Likewise, the Arizona Republic described the "joy they invested in bringing the show to a climax with all 21 musicians joining forces while treating the fans to such crowd-pleasing triumphs… was as contagious as the songs themselves."
With more than 200 million albums sold and 20 GRAMMY® nominations between them, the tour will continue to provide unparalleled entertainment from two of America's most legendary musical groups. Billboard hails that Chicago is one of "the most successful American rock band[s] of all time, in terms of both albums and singles" and "been able to fill arenas with satisfied fans" with music that has endured throughout time while Rolling Stone has described Earth, Wind & Fire as "a funk-fusion powerhouse that changed the sound and history of popular music." In October 2015, Chicago received their first nomination to be inducted into the Rock and Roll Hall of Fame since becoming eligible in 1994; Earth, Wind & Fire was inducted into the Hall in 2000.
Chicago and Earth, Wind & Fire – Heart and Soul Tour 2.0
All dates, venues and cities below subject to change.
*American Express pre-sale beginning November 16 @ 12 p.m. local
**Citi® pre-sale beginning November 16 @ 12 p.m. local
***American Express pre-sale beginning November 23 @ 12 p.m. local